Podcast: Play in new window | Download
In a time of death and destruction, disappointment or despair, let us renew the hope of vine and fig tree—our faith in the Messiah and His kingdom. V'eemru? (And let us say?)
In Matthew 21:19-20, cursed a fig tree:
Seeing a lone fig tree by the road, He came up to it and found nothing on it except leaves only. And He said to it, "May no fruit ever come from you again!" And the fig tree shriveled up at once.
How many have you wondered why Yeshua cursed a fig tree? To fully understand what Yeshua was doing, we need to study the fig tree in Scripture. Deuteronomy 8:8 promises that God would bring Israel into "a land of wheat and barley, of vines and fig trees and pomegranates, a land of olive oil and honey." So fig trees were among the blessings of the Promised Land.
1 Kings 5:5, "So Judah and Israel lived securely, every man under his vine and under his fig tree, from Dan to Beersheba, all the days of Solomon." From ancient times, grape vine and fig tree were a proverbial symbol of God's blessing on Israel, living securely and prosperously in the Promised Land.
Micah 4:4: "But each man will sit under his vine and under his fig tree, with no one causing terror. For the mouth of ADONAI-Tzva'ot has spoken." The vine and the fig tree are a picture: of the people of Israel, fulfilling HaShem's promises. In Zechariah 3:10, we see this picture again: "In that day," declares ADONAI -Tzva'ot, "every man will invite his neighbor to sit under the vine and under the fig tree." Are you getting it? Ultimately, the image of everyone inviting his neighbor to sit under vine and under the fig represents the Messianic age, which of course can only be fulfilled through the Messiah—Yeshua. V'eemru?
Israel had to understand that these blessings followed from their trust in God alone. In 2 Kings 18:31, an Assyrian official used this imagery to make a promise that was patently false: "Don't listen to Hezekiah! For thus says the king of Assyria: 'Make peace with me and come out to me. Then everyone will eat from his own vine and fig tree…." Sure…. The Assyrians had a well-known track record of state terrorism—trust them at your peril! I'd say, that's an ancient lesson for all who negotiate peace deals today…. V'eemru?
The United Nations are an object lesson of the futility of human beings trying to make world peace … without God. Only HaShem can be trusted to fulfill the promise of the vine and the fig tree. V'eemru?
When Israel turned to other gods and idols, the promise of blessing became a prophesy of curse: Hosea 2:14, "I will also devastate her vines and her fig trees…." Israel's ancient prophets the fig tree as a picture of the desolation of the land and the people of Israel. Jeremiah 5:17, "They will devour your vines and your fig trees." Jeremiah 8:13, "I will utterly consume them," says ADONAI, "There will be no grapes on the vine, and no figs on the fig tree, and even the leaf will wither." Joel 1:7, [An invader] "has turned my vine to waste and my fig tree to splinters. …" 12 "The vine is dried up and the fig tree is withered … the joy of mankind is withered away."
How many of you are now recognizing that Yeshua's curse of the fig tree, causing it to wither away, was a prophetic act?
For three years, Yeshua had been proclaiming the Good News of the Kingdom, with signs and wonders of supernatural healings, giving sight to the blind, opening the ears to the deaf, even raising the dead. Yet as John 1:11 says, "He came to His own, but His own did not receive Him."  Like Jeremiah, the weeping prophet, Yeshua wept for Jerusalem in Matthew 23:37-38,  "O Jerusalem, Jerusalem who kills the prophets and stones those sent to her! How often I longed to gather your children together, as a hen gathers her chicks under her wings, but you were not willing! Look, your house is left to you desolate."  Like Jeremiah, Yeshua was rejected by the leaders of Jerusalem, conspiring to execute him. Like Jeremiah, Yeshua foretold the destruction of the city and its lofty Temple… for the second time!
In Matt. 24:2, when His disciples were so impressed with the Temple, Yeshua responded to them. "Amen, I tell you, not one stone will be left here on top of another—every one will be torn down!" Thus the curse of the fig tree was merely a moment of frustration—it was a prophetic act. As Yeshua approached this lone tree, "along the road to Jerusalem, he found leaves but no fruit." Though the largest harvest of figs comes in the summer rather than at Passover time, fig trees can bear fruit throughout the year. Alfred Edersheim has pointed out that "in Palestine the fruit appears before the leaves," so it was reasonable to expect to find a few green figs among the green leaves of this tree. Yet there was none.
In Luke 13:6-7 explains his own prophetic act with a parable: "A man had a fig tree he had planted in his vineyard, and he came looking for fruit on it and found none. So he said to the gardener, 'Indeed, for three years I've come searching for fruit on this fig tree and found none. Remove it! Why does it use up the ground?'" After three years of caring for the tree, there should have been fruit!
Indeed, why should a fig tree use the precious nutrients of Israel's soil if not to produce fruit? For that matter, why should the people use the precious promises of Israel's land if not to produce fruit?
That would be pretty grim… indeed, like Jeremiah, Yeshua was pretty grim about the spiritual blindness of his contemporaries and consequences that would have for them, leading to death and destruction These days are pretty grim in Israel, with many young men coming back from Gaza in body bags.
These days are pretty grim in Syria, in Iraq, in Afghanistan, in Ukraine, with so many airplanes falling out of the sky that the news reports are sounding more and more like Chicken Little. These days are pretty hard for many people here, struggling to find good jobs, health challenges,  and day to day disappointments.
Yet even in these days of disappointment, let us renew the hope of the vine and fig tree. Like Jeremiah, Yeshua held out hope for the faithful. In Jeremiah 29:11, the prophet said, "For I know the plans that I have in mind for you," declares ADONAI, "plans for shalom and not calamity—to give you a future and a hope." HaShem always has good plans for us—it's His glorious promise.
The question is whether we will fulfill the plans. Jeremiah continues in verses 12-13, "Then you will call upon Me and come and pray to Me, and I will listen to you. You will seek Me and find Me when you search for Me with all your heart." The promises of God—especially those of the Messianic age, everyone dwelling under his own vine and fig tree—are awaiting fulfillment, in a generation that seeks after HaShem with wholehearted faith.
Back in Matthew 21:21, after Yeshua's disciples marveled at the shriveling of the fig tree, instead of explaining the meaning of His prophetic act, Yeshua taught them about faith: "Amen, I tell you, if you have faith and do not doubt, not only will you do what was done to the fig tree, but even if you say to this mountain, 'Be taken up and thrown into the sea,' it will happen." Does anyone see a connection between the prophetic meaning of the fig tree and Yeshua's word about faith?
The curse of the fig tree was the result (or bad fruit) of Israel's unbelief. The blessing of the fig tree will be the result (or good fruit) of Israel's faith. The Messianic age of vine and fig tree is God's promise—and God's promises are fulfilled through faith, in the Messiah. V'eemru?
Such faith is not passive but active, seeking after the Messiah and His kingdom. Hebrews 11:6 says, "Now without faith it is impossible to please God. For the one who comes to God must believe that He exists and that He is a rewarder of those who seek Him."
Just so, through Jeremiah God promised plans for a future and a hope … to those who pray and seek Him with all their hearts. Just so, Yeshua promised great power in the Spirit…to those who pray with faith. Nor do we need to muster up faith in ourselves… our faith just needs to be in Yeshua, our Messiah. V'eemru? For in Messiah Yeshua alone, is the fulfillment of the promises to Israel and all humanity.
The day of fulfillment is coming. How do we know? The fig tree is budding and blossoming again! Even as Yeshua's prophetic act foretold the desolation of the beautiful land, its reversal foretells the fulfillment of a glorious hope in Messiah.
Joel 2:22 speaks of the restoration of the fig tree at the time of the latter rains: "Do not be afraid, beasts of the field, for the desert pastures have sprouted, for the tree bears its fruit. Fig tree and vine yield their strength."
In Matthew 24:32, Yeshua uses the renewal of the fig tree to prophecy the revival of Israel in preparation for His own return. "Now learn this lesson from the fig tree: As soon as its twigs get tender and its leaves come out, you know that summer is near. Even so, when you see all these things, you know that it is near, right at the door." How many of you believe this revival is near?
Paul Liberman, the President of the MJAA, even wrote a book about it, The Fig Tree Blossoms. One of the greatest prophecies foretelling the Lord's return is the budding of the fig tree. Symbolically, the fig tree is Israel, fulfilling God's promises in the holy land. Like the fig tree which Yeshua found fruitless, Israel was laid waste and left desolate. But today the fig tree is budding with the physical and spiritual renewing Israel.
Yet the prophets and Yeshua teach us it will not happen without active faith. Without active faith in God's promises to bring the people of Israel back, Jewish pioneers would not have returned to Israel and worked until the wilderness and the swamps once again bloomed. Without active faith in the coming of Messiah, there will be no Messianic age.
Orthodox Jews must understand that human beings cannot "bring Messiah" by their own efforts…. Human beings are way to fallible and sinful to bring the Messianic age all by themselves.
The violence of Hamas and ISIL, the corruption of the United Nations, the failures of our own leaders all amply demonstrate that hope of humanity is not in humanity. We're going to need a lot of help from the Almighty: It must be a divine partnership. HaShem's plans for a hope and a future are fulfilled, by a lot of His power mixed in with a little of our faith—seeking and searching for the kingdom of God, though Messiah Yeshua. V'eemru?
So 2 Peter 3:12, "Live your lives in holiness and godliness, looking for and hastening the coming of the day of God." Are we looking for and thus somehow hastening the coming of the day of God? Yes we can, yet only by faith, without doubting, persevering even through the days of destruction.
Too many Christians let their faith become passive, trusting that it will "all pan out in the end," or that the rapture will get us all out of here before the tribulation comes (as if there aren't already tribulations for many believers already all around the world). Messianic faith requires that we actively seek the kingdom of God and His righteousness. V'eemru?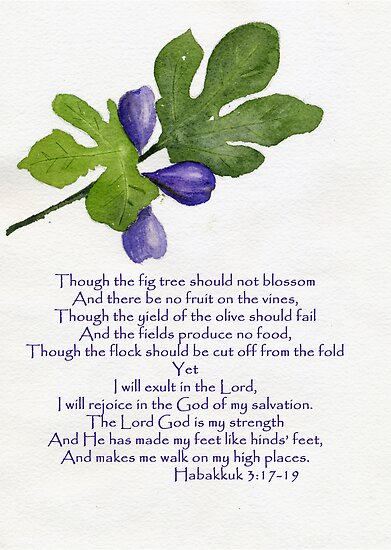 So it was in Habakkuk 3:17—this prophet also lived in such days: "Though the fig tree does not blossom, and there is no yield on the vines…" The unblossoming fig tree and the fruitless vines represent the frustration of creation still waiting for the fulfillment of the Messianic hope. Yet the prophet does not despair and keeps on trusting…. 17-19, "Though the olive crop fail, and the fields produce no food, the flock is cut off from the fold, and there is no cattle in the stalls, yet will I triumph in ADONAI, I will rejoice in the God of my salvation ADONAI my Lord, is my strength. He has made my feet like a deer's, and will make me walk on my high places." Even in dire circumstances, even though Messiah tarries, the prophet declares his triumphant, joyful faith.
How do we activate this triumphant faith in ourselves—and others around us? It's all about trusting Him, even in times of disappointment or desolation—in Israel, around the world, or in our own lives and our own families. Can we seek Him and search for Him in prayer? I look forward to inviting my neighbor to enjoy a little fellowship under a vine and a fig tree. Can we plant them around our Community House and our Synagogue? Watcha think? Yet it's all about Yeshua and His kingdom. Can we invite our neighbors to meet Him?
Let's pray….
This sermon may not to be reprinted in whole or in part without the express written consent of Messianic Rabbi Glenn D. Blank of Beit Simcha.  Your generous support for our ministry and building project is appreciated!