Podcast: Play in new window | Download
Shabbat, November 19, 2016
Trust is the glue that holds healthy relationship together. Trust in God; trust in those God brings to you. It's the smart thing to do. V'eemru? (And let us say?)
This week, Pamela & I attended the Messianic Leadership Roundtable, sponsored by Jewish Voice. Rabbi Jonathon Bernis introduced the MLR conference theme by talking about the importance of trust.
Trust is so basic and foundational. Without trust, we have no ministry; without trust, we will each be confined in our own anxiety, hurt, anger, pain, depression, and despair. Without trust, we will ultimately have no relationships—at least no healthy ones.
For two and a half days, 400 leaders from every stream of the Messianic movement learned about trust.
First, we must trust in God—the living God. We are people of faith. V'eemru? Scripture is the bedrock of our practice, and trust is at the core of Scripture.
After Jonathon's early encounter with the living God, he began to search the Scriptures. Then he discovered that Jesus… is Jewish! It started with faith that God really exists and loves us. Somehow God revealed Himself to him and he knew that it was true… then his mind caught up!
Hebrews 11:6 says, "Those who come to God must believe that He exists and He is a rewarder of those who diligently seek Him." God understands people who doubt that He even exists—after all, He is invisible, like the wind. So He promises a reward to those who put their trust in Him, and seek a relationship with Him.
Second, you must trust yourself—God really loves you, and has called you for a purpose. Yet Mother Theresa used to say, "I know that God won't give me anything I can't handle. I just wish He wouldn't trust me so much!" To the other leaders in the room, Jonathan Bernis said, "Some of you are struggling; some of you are burning out; you haven't seen congregational growth or experience financial stress." Jonathon reported grim statistics about ministers.
90% feel they are inadequately trained to cope with the ministry demands.
80% believe pastoral ministry has negatively affected their families.
70% of pastors constantly fight depression.
70% say they have a lower self-image now than when they first started.
50% of pastors feel so discouraged that they would leave the ministry if they could, but have no other way of making a living! Nevertheless, over 50% leave ministry within five years.
(Praise the Lord, I'll be celebrating 25 years with Beit Simcha in January! Y'all come now to the party!)
Nevertheless, I admit ministry has its challenges—as did Jonathan: "Sometimes I want to quit, and sometimes you do, too. I hear the voices that you hear. 'What difference are you really making? People don't like you.' There's always someone who does it better than you. Yet in those moments, I reflect on Scriptures like Philippians 3:14. "I press on toward the goal for the reward of the upward calling of God in Messiah Yeshua." May your faith in who you are in Messiah Yeshua—and the calling He has given you—be restored and undergirded."
(For some reason, Messianic Rabbis apparently last longer than evangelical pastors. It could be because we attend these excellent & encouraging conferences! Last year it was a cruise!)
So Jonathon encouraged us to trust in other people—including others leaders in our movement. The MLR brings leaders from all spheres of our movement; some have been working in Jewish ministry for decades and have never been in the same room together. How is that possible?
We are different in approaches & practices, in ecclesiology, in eschatology. We have differences in just about everything, and we've been offended about our differences and what we've heard about each other.
There's an Irish proverb: "When mistrust comes in, loves goes out." Here's another saying: "It takes years to build up trust, but it only takes suspicion, not proof, to destroy it."
Jonathan looked out at the crowd and said, "I don't believe everything Stuart Dauerman believes (then Stuart shouted—"I'll pray for you!")—but I have gotten to know Him and I trust Him." (You may recognize the name Stuart Dauerman—he wrote many Messianic Jewish songs, such as [sing] "Behold, God is my salvation, I will trust and will not be afraid" and "The Hallelujah Song" that starts with "There is no condemnation for those in Messiah. His Spirit has freed us from sin and death." Stuart wrote them when he was with Jews for Jesus, but lately is a leader of Hashivenu, a Messianic Jewish think tank with the mission statement, "Toward a Mature Messianic Judaism."  O boy… What can I say? "Two Jews, three opinions.") So Jonathan quoted Ernest Hemingway, "The best way to find out if you can trust someone is … to trust him."
When there's trust, there's unity, and where there's unity based on trust [sing]: hiney mah tov!
There's so much about we can agree, but we can agree to disagree and treat each other as family. Make an effort to reach out to others, even if you've heard that they're bad. If we make that effort, then we will achieve a unity that the Father desires for us. Reach out to someone and you may find out you like him or her, and you may gain a friend. We are Messianic mishpochah. Lord, help us to love one another. That's not just a prayer for leaders, but for all of us. V'eemru?
I can say that Jonathon's prayer (and diligence) has been answered. Among the friends I've met at MLR is Rabbi Michael Schiffman, who graciously offered to visit us to appraise & repair our Torah scrolls; we bought our first one from him nearly 20 years ago.
I can also say that I meet many friends at these conferences—including our Tikkun conference!
Our keynote speaker was Stephen M. R. Covey, author of The Speed of Trust.
When Stephen says "trust" to people, they tend to think of something soft and cuddly. But trust is more than a soft virtue; it has definite economic value for leaders and organizations.
Stephen led us in a little thought experiment: Identify someone you work with, and whom you trust. So what is it like to work with this person whom you trust? Is it pleasant or unpleasant? When you work with this person, how long does it take to get anything done? That's the speed of trust.
Now, identify someone you work with for whom you have a low level of trust. When you work with this person, how long does it take to get anything done? That's the slog of distrust. The difference is a night and day difference. Play that out onto a team; play that out within the congregation. Trust affects everything. V'eemru?
God is a rewarder of those who trust Him and diligently seek Him. So are many leaders.
On the other hand, the best definition of a bad relationship is one with low trust. Trust has economic value for corporations & congregations: there is a trust tax and a trust dividend.
The Trust Tax: When trust goes down, speed of getting down goes down, so costs goes up.
Whether that means checking, validating, increasing bureaucracy: cost go up. The trust tax leads to redundancy, disengagement & politics. Ask Hillary Clinton about the trust tax!
Then there's the Trust Dividend: increase trust and you get higher speed & productivity, & lower cost.
Where there's high trust on a team, there's a speed up in getting things done. Hence Covey concludes, "Nothing is as fast as the speed of trust!"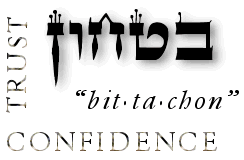 Trust is confidence. In many languages, they are the same word. (That would include Hebrew.)
The opposite – distrust – is suspicion.
Trust includes both character and competence. You need both to have trust. Character starts with integrity & honesty. Competence includes skills that one can learn & get better at. That's good news!
When many people hear about trust (or faith), they think of "blind trust."
Or people talk about a blind leap of faith. But does trust or faith necessarily have to be blind?
When I came to faith in Yeshua, it was after a long and pretty deliberate search. To be sure, there came a time when I had to commit: one day I wrote in my notebook, "Yeshua is the Messiah," and later, I trusted in Him as my Lord. But it wasn't a blind leap in the dark. I had studied the Messianic prophecies in the Bible & observed the love of Messiah in people who trusted in Him.
Faith is not stupid; trust can be smart. V'eemru? Let's be intelligent and confident about our faith.
So Stephen Covey created a "Smart Trust Matrix," which has two dimensions:
Propensity to trust: your willingness or tendency to trust others. A tax auditor or detective should not necessarily have high propensity to trust people under investigation, right? But what about a pastor or a rabbi? Propensity to trust is primarily a matter of your heart.
Analysis involves assessing 3 vital variables:
1) Situation/opportunity (the job to be done);
2) risk involved (nuclear sub vs. newspapers in bin); and 3) credibility of people involved.
Blind Trust (gullible, trusting everyone)   Smart Trust (wise judgment: trust & verify)
No Trust (leads to indecision)                       Distrust (produces suspicion)
Covey recommends smart trust. Yes there is a risk in trusting people, but we can do it, with wisdom. V'eemru?
Covey quoted Proverbs 3:5-6. "Trust in Adonai with all your heart lean not on your understanding.  In all your ways acknowledge Him, and He will make your paths straight." (He even quoted the TLV!)
Now, you could interpret what it says about "leaning not on your own understanding" as blind faith. Yet, remember that Proverbs is a book of wisdom. So it's not recommending being stupid. Rather than lean on your own understanding (apart from God and His Word), we can lean on understanding that flows from our relationship with God and our confidence in His Word. V'eemru?
Moreover, we can get better at it, by building our relationship with God and meditating on His word.
Covey talked about the Reciprocity of Trust. When leaders trust nobody, nobody trusts them. When you give trust, people return it. You got to give it to get it. Yes, there's a risk to trust people. But there's also a risk not to trust—indeed, inevitable consequences. When we get too careful, because we don't want to get burned, distrust grows, because it's contagious. But guess what, so is trust. Trust brings out the best in people.
Indeed, it's how God works with us. "For God so loved the world that He gave His one and only son so that everyone who trust in Him should not perish." Talk about trust… Consider how much God trusts us, to give Himself up for us!
Dan Juster told his moving story of trust in building communities and lifelong covenant relationships.
It is a testimony of faithful relationships that have lasted many decades, and is being passed on
from generation to generation, l'dor va-dor.
Dan's son Ben and his daughter Simcha and her husband Jonathon Moore were at the MLR;
Ben is working with Asher and Eitan in Israel; Simcha and Jonathon with Asher in Israel.
But it's not just their biological children; Dan & Patty have many spiritual children, all over the world.
When Dan cam age in the 60's & 70's and observing the church, he was disappointed in what he saw.
The book Future Shock forecast that relationships and marriages would not last, as people grew further apart. People would become increasingly disconnected and suffer from "shattering stress and disorientation"—future shock. Dan read it as a grad student and said to himself, "I have to resist it."
So he sought to be counter-cultural and decided to become involved in intentional community. (Dan was and is a man after my own heart!)
He saw people going to church and came to the view that God doesn't care that much about people going to church. What God cares much more about is people becoming a discipling community, where people build their lives together with mutual accountability.
He said to himself, I just don't believe in an independent church. Congregations need accountability; hence he became a Presbyterian. He had a Norwegian mother and a Jewish father, so he called himself a Jewegian, or a Norwegian Presbyterian Messianic Jew. His first pastorate was the First Presbyterian Hebrew Church, which he renamed Adat HaTikvah and is still going strong in Chicago.
Dan had a vision for a discipling community with lasting covenant relationships, where they would be mutually accountable, where we would oppose the trends of our world so dominated about corporations rather than a humane view of people, which he found in Acts 2:42-47.
(You can also find in the Moravian community in Bethlehem, where Germans & Native Americans & African Americans lived together and were buried together in God's Acre.)
Then the Lord called Dan & Patty to Washington, D.C. They were distraught about leaving their community in Chicago. But the Lord said I have a different purpose for you.
Keith (Asher) came to him from Guatemala and hitchhiked to Maryland, and became Dan's disciple. Then Andrew (Eitan) Shishkoff came. Then Paul Wilbur came. Dan built a team, together with Marvin (Moshe) Morrison, Michael Rudolph, Jerry Miller and Ralph Finley—all 35-40 years ago.
Marc Chopinsky and Rene Bloch joined Paul Wilbur to create Messianic music as Israel's Hope. These guys and their wives and children and grandchildren who all know and love each other and serve with Tikkun in America and Israel to this day.
Pamela and I have been with Tikkun since I fist met them in 1996—that would be 20 years ago!
It all hinges on trust. To build a community that lasts, you must have quality relationships. Trust is key. We have to trust each other enough to let each one fulfill each one's unique calling with each one's unique gifts.
If we really do this thing right, we'll develop havurah  group leaders that will expand the kingdom of God in homes, and we'll empower them to do so, and some of them will grow into congregations. They will continue to have trusting relationships with each other become a network of communities. Such leaders pray for each other, take family vacations together; we eat together, we strategize together, we weep together. Out of leadership teams we develop our plans and programs together.
Indeed, Pamela & I visited a new congregation in San Tan Valley that has joined our Tikkun America network.
In all these things, we are committed to the power of the Holy Spirit. When the presence of God shows up, nobody wants to leave. People may be tempted to leave; but if they are attentive to the Ruach, they will stick.
People may say, 'We're going to go off on our own. Who needs this? We're capable.' Yet if you listen, the Lord will say to you, stay where you are. That's what happened to Dan and Asher and Eitan. Once, Dan confessed that he failed them. But when Asher was tempted to throw everything away, the Lord came to him and said, "Stick with Juster."
If God gives you the grace to build a lasting covenant relationship with others in a shaping team, you will find yourself blessed. Dan lives an extraordinarily rich life. The dream that Dan had as a graduate student has been fulfilled and he prays it will continue until the Lord returns.
When Dan finished, the room was filled with applause. It is a compelling and trustworthy vision.
How many of you want this kind of life together? The key is a commitment to trust: trust God and trust others that He brings to you.
Yes, such trust is risky. Some people will disappoint you; some will leave. But the testimony that we have from Dan & Patty, and many others, is that it's worth it. The glory of the kingdom of God is worth it; the people God brings into our lives are worth it; the heritage we pass on to our children, natural and spiritual, is worth it; the mishpochah or spiritual family that we form in this world and which endures until the world to come, is worth it. V'eemru?
This sermon may not to be reprinted in whole or in part without the express written consent of Messianic Rabbi Glenn D. Blank of Beit Simcha.  Your generous support for our ministry and building project is appreciated!